There has rightly been a lot of attention given recently to the centenary of the birth of Pope John Paul II, who was born in 1920, and changed the face of global […]
By Dr. Peter Jones, IPS Interim Dean, Clinical Associate Professor
On Pentecost Sunday, protests throughout the country and around the world continued. The murder of George Floyd, captured on video and seen around the world, devastates the conscience. His public lynching has catalyzed the release of frustration and anger, the result of centuries abuse, oppression, and […]
It is graduation week and things are a lot different than I expected them to be. We took our last classes from home, we have been emotional and afraid, our minds went somewhere else at a time we should be thinking about next steps and […]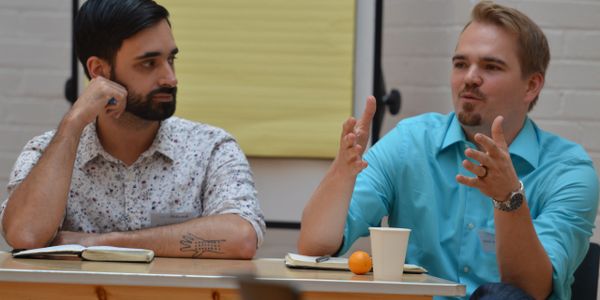 Alex (on the right) speaking to a group
Alex, tell us a little bit about yourself.
I was born and raised in New York City. I grew up on the border of Spanish Harlem and Harlem and then in the Bronx. At that time, those neighborhoods were primarily made up of low-income people of color, so my […]
Ana Lopez with some of El Cireneo's Patients and staff
Ana, tell us a little bit about yourself. You just graduated from IPS and I hear you are planning on continuing your studies. What is next? How has your time at IPS helped you in your ministry?
I am from Tuxtla Gutiérrez, the capital
city of Chiapas, […]
February 19, 2020
12:04 pm
Five Representatives from the Institute of Pastoral Studies traveled to Arizona in early February, Drs. timone davis, Nat Samuel, Mike Canaris, and Peter Jones, joined later by Mariana Miller, to attend two conferences and visit the U.S./Mexico border in Nogales.
Dr. Samuel served as the President of the Association of Graduate Programs in Ministry and presided […]
January 22, 2020
12:31 pm
1.) Samantha, tell us a
little bit about yourself (where you are from, undergrad, previous work).
I was technically born in southern California, outside of LA, but I grew up in the western suburbs of Philadelphia. There are pieces of my life and personality strewn across every part of this country it seems from moving so much. So, […]
Image by Sasin Tipchai
William
S. Schmidt, Ph.D.[1]
December
16, 2019
Hard times pose particular challenges for persons and communities. Times of crisis can threaten to erode the cohesion of selfhood, even as they force communities and persons to confront heretofore unforeseen threats and challenges. Although such times can have the […]
Did you know you can take an elective or core class towards your degree in Rome?
Study in Rome group 2019
The IPS Summer Rome program provides a unique opportunity to experience firsthand the historical, cultural, and spiritual benefits of the Eternal City and the Vatican. Led by faculty members with longstanding personal relationships with local […]