Seeds of Justice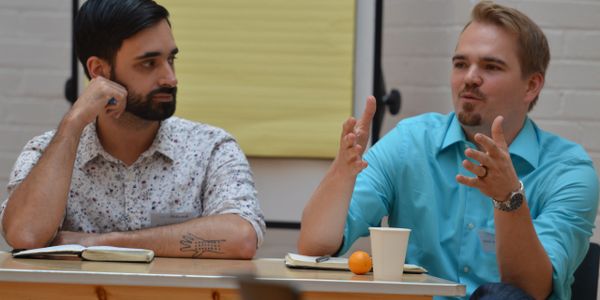 Alex, tell us a little bit about yourself.
I was born and raised in New York City. I grew up on the border of Spanish Harlem and Harlem and then in the Bronx. At that time, those neighborhoods were primarily made up of low-income people of color, so my working-class white family stuck out a bit. Seeing the different way our family was treated, and even the different opportunities available to me through "gifted" (meaning wealthier and whiter) education is what got me thinking about social justice in the first place.
You are an IPS alumnus, what was your major and when did you graduate?
I majored in Social Justice and Community Development and graduated in 2010. I was a part-time student since I was already organizing full time at that point, but I really enjoyed the time in class as a way to step back from the day to day grind of organizing and reflect on the big picture.
What made you choose that path?
After witnessing so much injustice firsthand, from educational disparity to police harassment of my friends, to the rampant homelessness of the late Reagan and early Bush I administrations, I knew I wanted to make a change. But I also knew that I didn't want to make that change from a position of an elite – a lawyer or "expert" of some kind. Most of the people I had learned the most from and respected the most didn't occupy fancy offices and places of authority. That's what led me to organizing, I wanted to work with people to build mutual power and create change together.
You have a book out what is it about?
Yes, I do! It's entitled Seeds of Justice: Organizing Your Church to Transform the World. I think of it as a guidebook for people of faith who want to make change, and really want their church to be an effective agent of change, but don't know how to do it or where to start. I believe that the church should be the most vital force for justice in our world, but, sadly, most of our congregations have either forgotten, or chosen to ignore the social Gospel, or they are really ineffective at impacting the powers and principalities. Over the course of my career, I think I've learned a lot about how churches can transform themselves, and become healthier congregations in the process, so I wanted to share those lessons.
What inspired you to write it?
Actually, I was pushed into doing it. A number of different community leaders have told me that I should write a book over the years. I knew that churches needed these tools – I saw it all the time – but I didn't think I was the messenger and I didn't think of myself as a writer. But finally, after leading a training at a church, I got a call from one of the attendees who actually worked for a publisher and they asked me to sit down and talk about writing a book. That was the push I needed to finally start writing.
Folx can buy the book from Orbis Press: https://www.orbisbooks.com/seeds-of-justice.html or at my website www.AlexTindalWiesendanger.com
How is the knowledge you gained during your time at IPS helping you in your career?
For me, IPS helped in two ways. First, my coursework there really helped me refine my theological understanding of my work as well as some of the theoretical frameworks to think about justice issues. Secondly, some of the hands-on courses offered me some hands-on skills that I ended up using in one way or the other. I'm thinking here specifically about the Leadership in Social Justice Organizations course and a course in Restorative Justice that were really helpful.
Any word of advice for current and future IPS students on surviving grad school and/or getting a job doing great work?
That's a tough one. I think I would say that the most important thing is building relationships with the folx who are doing the work you want to do and to use the time at IPS to really challenge yourself to grow, see new perspectives, and be uncomfortable.