Working at the Office of Undergraduate Admissions
Working at the Office of Undergraduate Admissions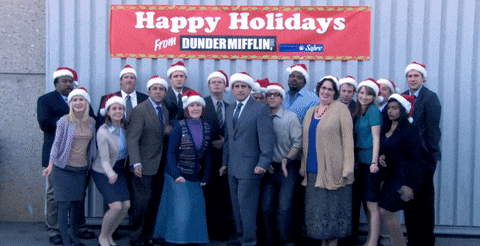 To say in the least, I consider the people in this office to be like family. We have so many outgoing student workers and amicable admission counselors who make each day so fun and enjoyable. Unlike other offices, our office takes care of the most essential part of the university- admitting students! It is always exciting to meet prospective students every day and prepare awesome events such as Loyola Weekend and Open House.
_____________________________________________________
I love working in environments that regard promoting schools. I have done it since grade school and to this day, I still get excited in this type of work atmosphere. In 8th grade, I was the Special Events Coordinator, managing school events. In high school, I was a student ambassador for 4 years and gave tours to families and prospective students. In college, not much is different. I began blogging during my Freshman year and have grown to enjoy writing and share my memories and experiences with prospective students. Upon working in the front desk, I found it exciting to meet new people and hear their stories and backgrounds. The most rewarding thing for me is seeing students become actual Ramblers and still keep in contact with me; it affirms that I made an impact on their lives.
At Loyola's Undergraduate Admission Office, I have only great experiences. This place has given me an outlet to be genuine to myself and let my creativity shine. Through writing weekly blogs, you are able to have a little snapshot of Loyola and my life; I am able to show you the best of what this school can offer to students and how I have taken advantage of it. In addition, I take photographs during Open Houses and Loyola Weekend. Here, I am able to capture the best moments when prospective students get see our beautiful campus and meet current students, faculty, staff, and LU Wolf. Finally, instead of feeling regretful of the things I did not have a chance to do as a Freshman, I make sure the students are well-informed and most importantly are reassured.
While I do enjoy this type of work, we cannot forget the people that make work so fun and exciting. The other student workers in this office are quite talented, knowledgeable, considerate, respectful, responsible, and funny. Your Loyola experience stems from the hard work of the student workers. When you take a tour of campus, you have an actual student show you around. When you get a folder, know that it was assembled by a dedicated student worker. If you want to shadow a student or meet with a student for even five minutes to chat, know that there are many student workers like myself who are more than willing to do so. Indeed, it is one huge family here at Loyola's Undergraduate Admissions Office.
For the Social Media Team, we bid farewell to our head supervisor, Mary, as she accepts a new position within the university. She was my 'boss' since my freshman year and I have enjoyed working for her. Not only was she kind and understanding, but she was super cool. She made my working experience at UAO phenomenal and I cannot thank her for all the support she has given to the social media team and the rest of the the UAO student workers.
Mary, if you are reading this, we already miss you! Good luck to you in your future endeavors!
*I am kind of getting sentimental as I realize I will graduate this semester too and close this chapter of my life soon, too. Despite that, I am excited for all the opportunities and adventures I will have in the future!