Web Site Seeks to Promote Literacy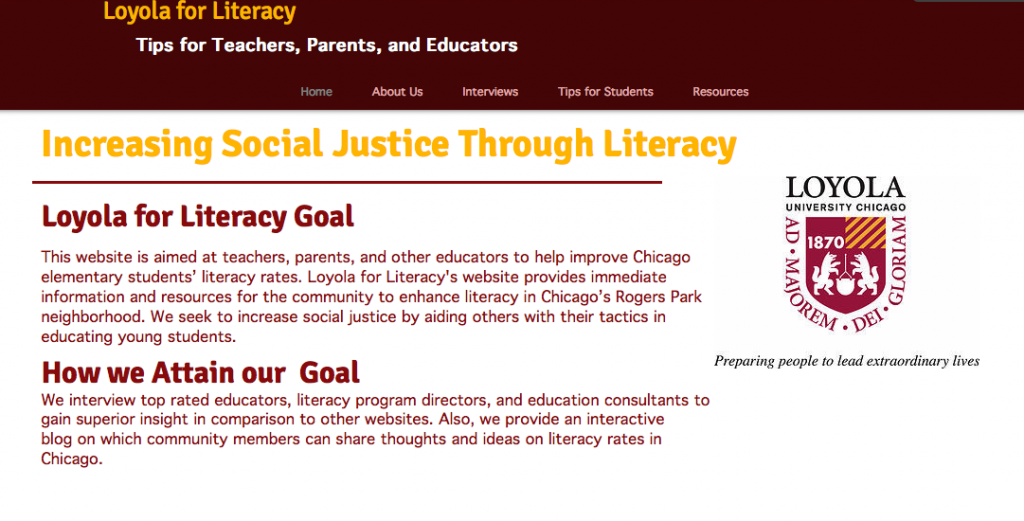 For a school project regarding social justice, my group members and I focused on working towards increasing literacy for young children in the Chicago area.  We created a Web site on which we share valuable information for parents, teachers, and caregivers so that they may contribute to the success of their children's futures.  In our research, we found many resources that work toward the cause of literacy, but we saw the need for a student-run platform that would provide free tips and resources for the public.
The organizations we researched had Web sites that provided information on how one could enlist their services.  What we wanted to do was create a Web site that would openly provide the tips and foundations of increasing literacy in children between the grades of kindergarten to fifth.
Because we are students of Loyola University, which is located in Rogers Park, an area with low literacy rates, we wanted to drive the message home to our peers, friends, and advisors at our school.  Through our Wix site, we'd like to raise awareness of how critical reading is for the futures of young children.  We realize that we are privileged to have been given the opportunity to pursue a higher level of education at a renowned university, and we would like to encourage our peers to get involved.
written by

mryu

on

December 6th, 2012

posted in Edit
Comment ↓